FEBRUARY 7 & 8
---
The Free Indeed Men's Conference has been used annually to call men to their highest purpose: Freedom in Christ! Every year hundreds of men gather together to encounter God and to see their lives transformed! Every year men are saved from death, every year men find refreshment through repentance, and every year men are filled with the Holy Spirit.
Free Indeed has become an incredible event to thousands because they are challenged with bold truth, they unite in powerful worship and they are sent out with renewed priority and urgency. Because of this, our prayer is that Free Indeed 2020 would be your best spent weekend of the year. May it be so!
We are hosting a satellite simulcast live at Mission City.  What that means is that we will have all the live parts of the conference on site from live worship to breakouts, and we will be live streaming all of the main session speakers.
This year's theme is We Must Die to Live. True freedom in Christ rests on the theological truth that we must die to ourselves to live for him. And this is one of the most difficult challenges men will face—no one in their flesh wants to die. The world tells us to live for self, for gain, for accomplishment, and for pride. But the more we die to self, the more we live in Jesus Christ!
---
DETAILS:
DATE: Friday February 7th and Saturday February 8th
TIME: Friday 7pm-9pm | Saturday 7:30am-3pm
LOCATION: Brantford Christian School (30 Clara Cres. Brantford, ON)
TICKETS: Are on sale now! Get yours HERE.
---
TICKETS:
TICKETS ON SALE
---
This year's schedule:
FRIDAY
6:00-6:30pm        Pre-Conference Prayer
6:00-7:00pm        Registration
7:00-9:00pm        Main Session 1
9:00-10:00pm      Snack and Hang out time
SATURDAY
7:30am-8:00am   Breakfast
8:00-8:30am        Worship & Prayer Session
8:30-9:00am        Break
9:00-10:00am      Workshop
10:00-10:30am    Break
10:30am-12pm    Main Session 2
12:00-1:30pm      Lunch
1:30-3:00pm        Main Session 3
---
This years speakers:
---

HB Charles
Rev. H.B. Charles, Jr. is the pastor-teacher of Shiloh Metropolitan Baptist Church in Jacksonville, Florida. H.B. has served in this role since 2008. At the June 2017 Southern Baptist Convention, H.B. was historically and
unanimously elected as the SBC Pastors' Conference's first African-American president. Prior to joining his present church, H.B. led the Mt. Sinai Missionary
Baptist Church of Los Angeles for almost 18 years. Succeeding his late father, he began on his pastorate at Mt. Sinai at the age of 17 – a senior in high school.  Outside of his ministry to and with his congregation, H.B. regularly speaks at churches, conferences, and conventions around the country, and he is also the author of several books. H.B. is married to Crystal, and they have three children: H.B. III, Natalie, and Hailey.
Robbie Symons
Robbie Symons is the founding pastor of Hope Bible Church Oakville. His greatest passion is to see lives changed for the glory of God. Hope Oakville has experienced the power and grace of the Lord in its growth from a Bible study of 18 people in 2003 to over 4000 people today. They have also been used to see the birth of several vibrant churches across Canada. Robbie's radio ministry through Hope Oakville, called Live in the Light, can be heard daily throughout Southern Ontario, Western New York, and the Atlantic Provinces. He is also the author of Passion Cry: How Apathy is Killing the Church and A Passion for Christ Will Revive It. Robbie has also taken the role of On-Air Bible Teacher at 100 Huntley St. where he deeply desires to reach people with the word of God resulting in a passion for Christ. Robbie and his wife Gillian live in Burlington, Ontario with their four children.
Kevin Weeks
Kevin Weeks serves as the founding and Senior Pastor of Mission City Bible Church in Brantford, Ontario. His passion is to shepherd God's people with God's word toward God's mission so that God's name would be known among all the nations.  After 15 years in ministry, God called Kevin and his family, along with many other families, to plant a church in Brantford in 2014. Since then, they have seen God's grace and power in countless ways. "Break Forth Radio," (a ministry of Mission City Bible Church that airs one-minute clips from Kevin's sermons) broadcasts daily on Christian radio across the Brant region. Kevin earned his Bachelor's degree from Heritage College, his Master's degree from Briercrest Seminary, and is currently working on a Doctor of Ministry degree in Missions and Evangelism from Southeastern Baptist Theological Seminary. Kevin and his wife, Stacey, have three children and live in Brantford.
---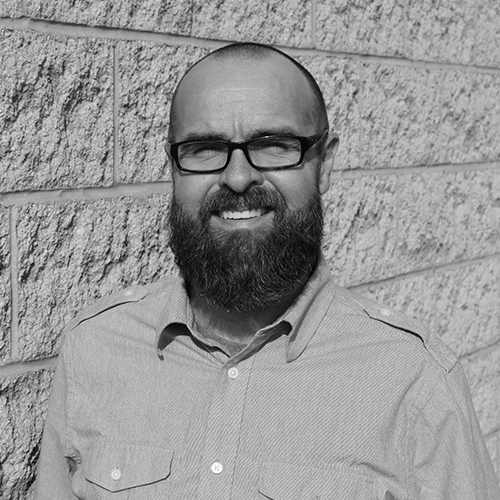 KEN CONNELL
Mission City Men's Bible Study Leader